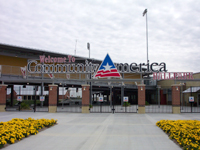 Client: T-Bones Baseball LLC
Contractor: Titan Construction
Architect: Heinlein Schrock Stearns

Community America Ballpark
Kansas City T-Bones
Kansas City, Kansas
www.tbonesbaseball.com
The new Kansas City stadium, which is currently under construction in Kansas City, KS, will open for the 2003 season. The facility will seat 5,000 people at a cost of more than $12 million. By all measures, the new ballpark will be a showpiece for the Northern League.

---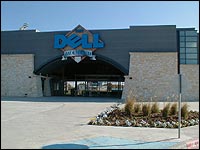 Client: Round Rock Baseball, Inc.
Contractor: Hensel Phelps
Architect: HKS

Dell Diamond Round Rock Express
Roundrock Express
Round Rock, Texas
www.rrexpress.com
Built at a cost of $20 million, The Dell Diamond is the home of the Round Rock Express Baseball Club, and also a facility that features numerous amenities for fan comfort and enjoyment. The Express and Dell Computer Corporation agreed on a partnership that included stadium naming rights in January of 2000.

---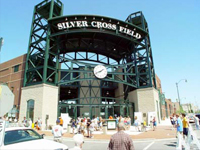 Client: Joliet Jackhammers
Contractor: Walsh Construction
Architect: Sink Combs Dethlefs

Silver Cross Field
Joliet Jackhammers
Joliet, Illinois
www.jackhammerbaseball.com
The beautiful new $25 million Silver Cross Field in downtown Joliet opened for the expansion Jackhammers in 2002. With Gary and Schaumburg, Joliet is now one of three Northern League franchises in greater Chicago.
---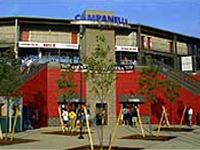 Client: Brockton 21st Century Corporation
Contractor: Payton Construction
Architect: Gould Evans

Campeanelli Stadium
Brockton Rox
Brockton, Massachusetts
www.brocktonrox.com
Brockton started playing in brand new Campanelli Stadium on Opening Day 2002. Built in collaboration with the city, the state-of-the-art facility is 25 miles south of Boston. Skipper Ed Nottle managed six years in the Boston organization.
---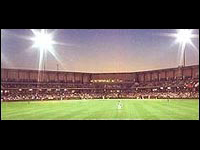 Client: Jim Abel, NEBCO
Contractor: Sampson Construction
Architect: DLR Group

Haymarket Park
Lincoln Saltdogs
Lincoln, Nebraska
www.saltdogs.com

Continuing a Northern League model of working with area universities, Lincoln entered the league in the new $32 million Haymarket Park. The two-tiered park was built in cooperation with the University of Nebraska, the city of Lincoln and the team. After a 40 year absence, professional baseball returned to Lincoln in May, 2001.